Preconception Planning: Way to a Healthy Pregnancy
2023-03-15 - Admin | Blog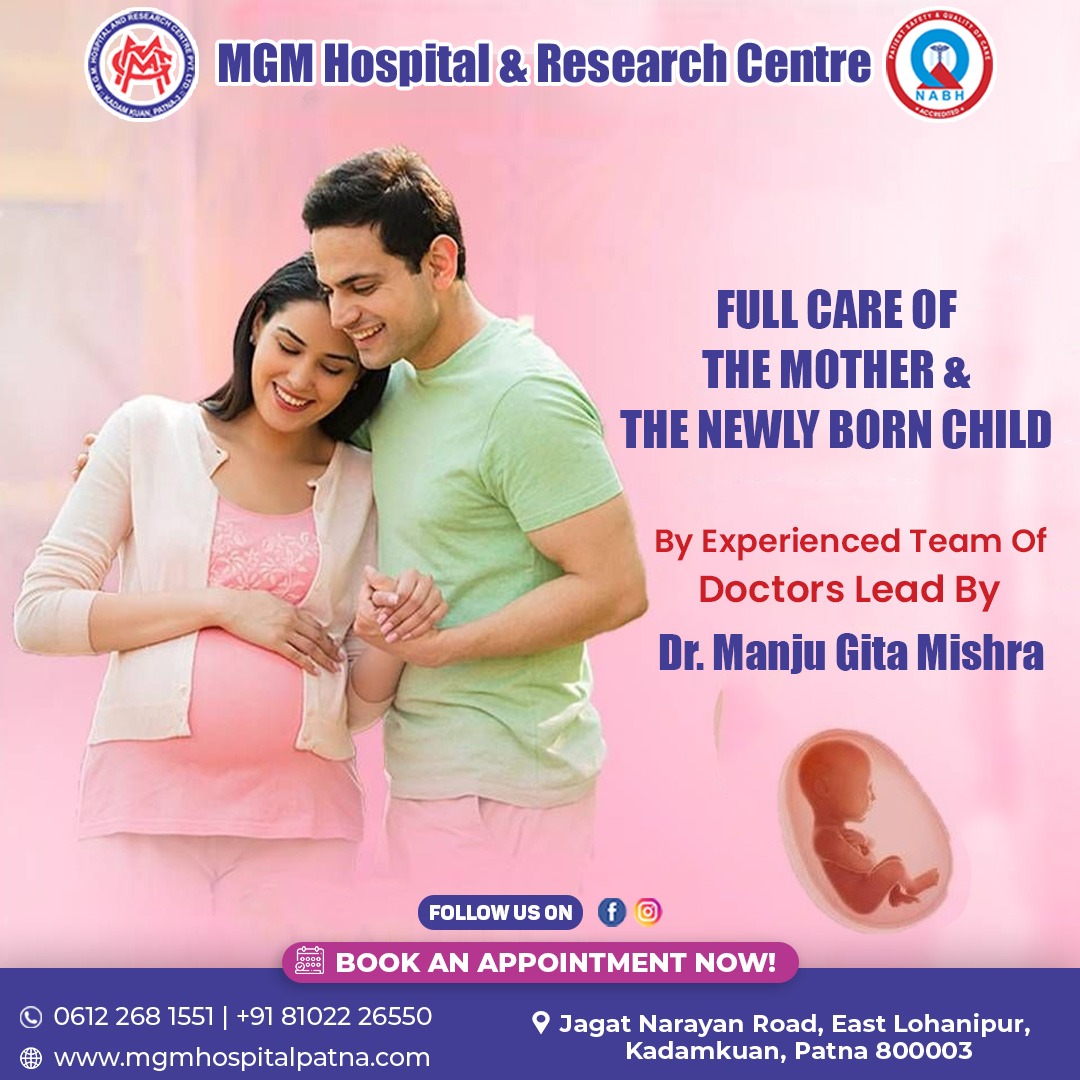 If you are planning to have a baby or just thinking of entering the realm of motherhood, there are some preconception planning you need to be aware of. It is never too early to get ready for the pregnancy journey. A lot is going to happen and your life will change forever with a new person entering your life. Getting your body thoroughly checked by our well-trained doctors from MGM Hospital & Research Centre Pvt. Ltd is always a good call. At least, you will know that you are on the right path and can conceive smoothly without any issues.
For some people, it takes a few months for the body to get ready for pregnancy. And for others, it can be a long journey that might take years. It does not matter if this is your first baby or not, getting in touch with the Top 10 gynaecologists in Patna from us at MGM Hospital & Research Centre Pvt. Ltd is always the safest option so far. At least you will get the right guidance and advice to help conceive a healthy child.
Start with a plan:
You might have some goals for having a child or not. When you didn't want a child, you were on birth control pills. But, now when you are thinking of inviting a guest into your life, it is vital to take some initial steps to procure the goals. In order to get pregnant and enjoy a successful pregnancy journey, catch up with the best gynaecologist in Patna Boring Road from MGM Hospital & Research Centre Pvt. Ltd is a sure-shot winning strategy to follow.
Consult our doctor right now:
Before you even get pregnant, we would request you to have a chat with our healthcare provider regarding preconception care.
Here, you need to talk about your health history and any addiction you have.

You will talk about your medical conditions, which can otherwise affect a smooth pregnancy journey.

Furthermore, our doctors will discuss any previous pregnancy issues with you.

You will share a chat regarding the medications you are on, the vaccines you have taken, the last time you were sick and more.
All these points are important to note down if you want to prevent childbirth defects. Once you have a chat with our doctors from MGM Hospital & Research Centre Pvt. Ltd, it is mandatory to follow the points as advised. Once you do that, no one can stop you from enjoying a healthy pregnancy! We have the best gynaecologist in Kankarbagh Patna for you. It is better to take an early appointment because our doctors are always busy with new patients all the time. You can log online and fill up the online admission form to get going.
Be sure to have 400 mg of folic acid daily:
Folic acid is also known as vitamin B in layman's terms. Once your body has enough folic acid, it helps with the pregnancy flow and can prevent some of the major birth defects.
It is important for your body to have folic acid for a minimum of 1 month before you plan to conceive.

It helps in properly developing the baby's brain and spine.

Some studies have asked women to get at least 400mg of folic acid daily for a month or two when they are trying to conceive.

You can get folic acids from supplements or fortified food items, or a combination of both. It should be a part of your rich folate diet plan.
Catch up with our top 5 gynaecologists in Patna from MGM Hospital & Research Centre Pvt. Ltd to learn more about the food items to indulge in when you are pregnant. We will talk about folic-rich food items, which are a must when you are trying to conceive.
Avoid alcohol, smoking and some drugs:
When you are trying to conceive a child, it is highly recommended to keep alcohol and cigarettes at bay. There are certain drugs, which you should not touch while trying to conceive.
Alcohol consumption, smoking and taking certain drugs will cause some serious problems while trying to be pregnant.

It can give rise to birth defects, premature birth and even the death of your infant.

In case you are planning to conceive but cannot stop drinking or smoking cigarettes, then make sure to contact our healthcare provider from MGM Hospital & Research Centre Pvt. Ltd now.

We have some alcohol and smoking treatment services to help you get rid of this addiction once and for good!
Be sure to avoid toxic substances:
Make sure to avoid environmental contaminants, harmful chemicals and some other toxic substances like metals, synthetic chemicals, bug spray, fertilizers and rodent or pet faeces while trying to conceive. We have the best child specialist in Patna at MGM Hospital & Research Centre Pvt. Ltd, who will talk about the importance of avoiding toxic substances and environmental contaminants, while trying to conceive.
All these substances, as mentioned above, can hurt your reproductive systems.

It will make it extremely difficult to conceive or get pregnant.

Exposure to these toxic substances even to a minimal amount during pregnancy can lead to unwanted diseases.
So, with us by your side, now you will learn how to protect not just yourself but your loved ones around. Toxic substances should be kept in a covered place and away from your health.
Always maintain a healthy weight:
Your body needs to maintain a perfect weight when you are trying to conceive a child. You shouldn't be too skinny or obese as these factors can lead to disastrous results. Catch up with our experts from MGM Hospital & Research Centre Pvt. Ltd in order to learn more about the ways to maintain a healthy weight.
Overall, we are all set to help you conceive a child. Visit our official website to learn more about our capabilities and doctors. You can even give us a call at 8102226550 for some thorough details right now!