Nurturing the New You: A Guide to Postpartum Wellness
2023-11-20 - Admin | Blog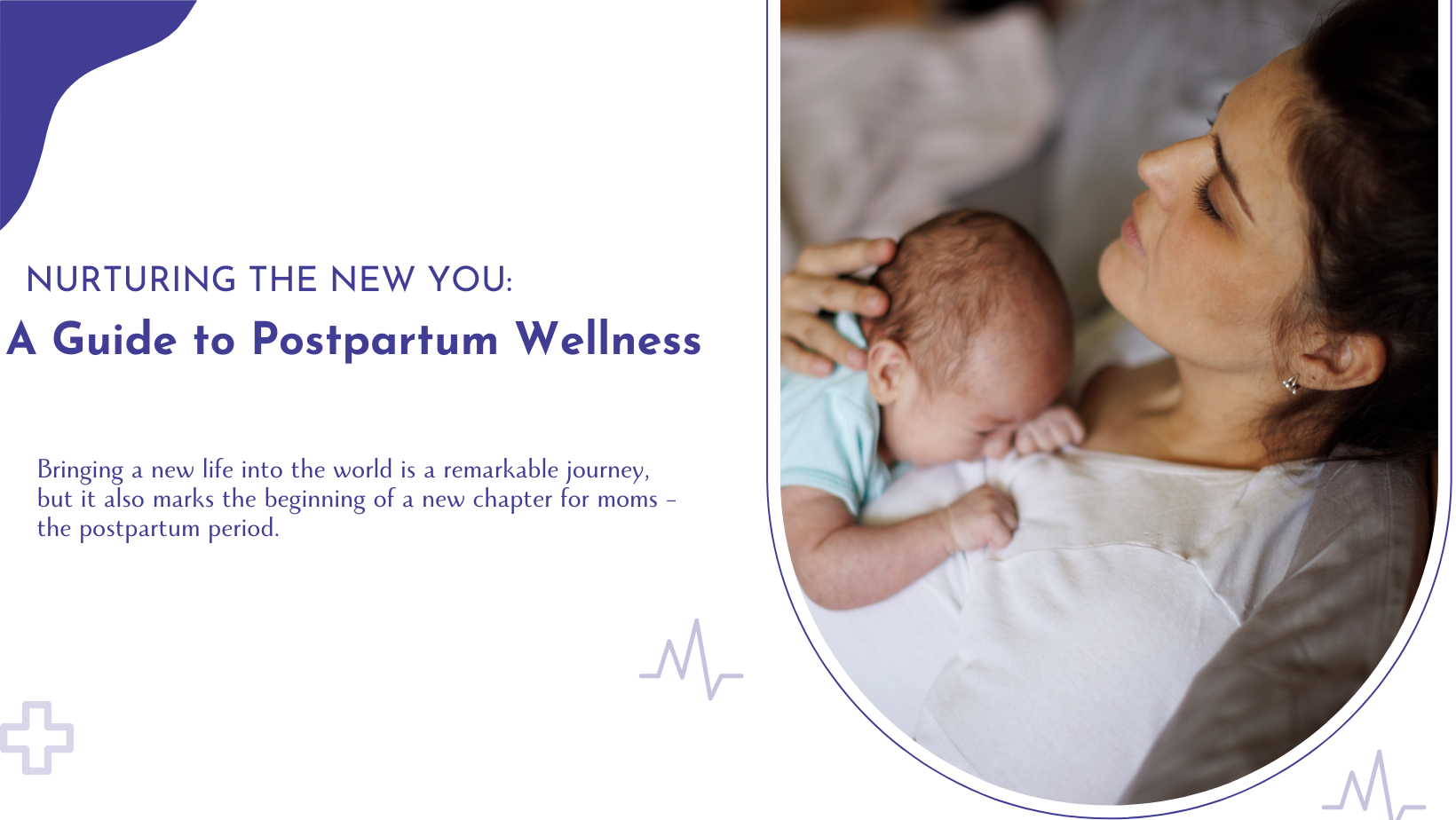 Bringing a new life into the world is a remarkable journey, but it also marks the beginning of a new chapter for moms – the postpartum period. While the focus is often on the baby, it's crucial for mothers to prioritize their own well-being during this transformative time. In this blog, we'll explore essential aspects of postpartum wellness, offering insights and tips to help new moms navigate this delicate stage with self-care and confidence.
1. Rest and Recovery
The first weeks after childbirth are a time of physical healing. Adequate rest is essential for recovery, so don't hesitate to lean on your support system. Enlist the help of friends and family to manage household tasks, allowing you to focus on self-care and bonding with your newborn.
2. Nutrition for Nourishment
Maintaining a well-balanced diet is crucial for postpartum recovery and breastfeeding. Emphasize nutrient-dense foods, such as fruits, vegetables, lean proteins, and whole grains. Stay hydrated, and consider consulting a nutritionist for personalized advice to meet your specific dietary needs.
Check : Visit the Best Maternity Hospital in Patna
3. Gentle Exercise
Gradual reintegration of gentle exercises, like walking or postnatal yoga, can aid in physical recovery and improve overall well-being. Always consult with your healthcare provider before starting any exercise routine to ensure it aligns with your postpartum recovery plan.
4. Emotional Well-being
The postpartum period can bring a range of emotions. It's normal to experience highs and lows. Open communication with your partner, friends, and family is crucial. Consider joining a new moms' support group to share experiences and gain insights from others going through similar journeys.
5. Quality Sleep
Sleep is a precious commodity for new parents, but finding ways to prioritize quality rest is vital. Establish a consistent sleep routine, take naps when possible, and share nighttime responsibilities with your partner to ensure both parents get the rest they need.
6. Self-Compassion
Adjusting to the demands of motherhood takes time, and it's okay not to have everything figured out. Practice self-compassion and celebrate small victories. Take moments for yourself, whether it's a relaxing bath, reading a book, or enjoying a quiet cup of tea.
7. Professional Support
Don't hesitate to seek professional support if needed. Postpartum doulas, lactation consultants, and mental health professionals can provide valuable guidance and assistance tailored to your unique needs.
Check : Visit the Top Gynecologist in Patna
Conclusion:
Embracing postpartum wellness is an investment in both your health and the well-being of your growing family. By prioritizing rest, nutrition, emotional well-being, and seeking support when needed, you lay the foundation for a healthy and fulfilling postpartum experience. Remember, taking care of yourself is not only a gift to you but also to your newborn, fostering a nurturing environment for the beautiful journey ahead.